Here is a straight forward way to start your own business: resell someone else's product or service. This concept has been around for long time and is a frequent path of bootstrapped entrepreneurs.
Reselling is often confused with retailing. Lots of retailers obviously resell items in storefronts or online that they have purchased (or are drop shipping) from manufacturers or wholesalers. Retail has famously had its challenges and, as digital nomads around the world are learning, drop shipping is also becoming a much tougher way to make a living.
However, some of the same ideas work in almost every other industry and often times with much less competition. I was recently working with an entrepreneur who is launching a company in the green energy business. His challenge: to sell to his first customer he needs to create the software, hardware, construction, engineering, sales, legal, permitting, and project management infrastructure to deliver the project. That is a daunting list for anyone trying to start a business.
One solution to this challenge is to approach other companies in industry that provide some or all of the services he needs (i.e. suppliers) and negotiate a reseller relationship with them. This business model is often referred to as a value added reseller or VAR. He can then focus on selling and managing the process on behalf of his end customer. This is a great way to build referenceable customers. Over time, he can work on building his own capabilities (in this example: software, hardware, construction, engineering, etc.).
A high percentage of businesses are open to creating reseller relationships. The challenge for the bootstrapped entrepreneur is to clarify the value that they will be adding to the process. One way to think about this is to consider 2 important dynamics of the industry you are entering:
Pricing: Is the pricing to the end customer transparent (i.e. displayed on a supplier website) or opaque (i.e. negotiated, multi-part, etc.)?
Complexity of the product or service: Is the product/service standardized (e.g. selecting from a simple set of options) or complex and customized?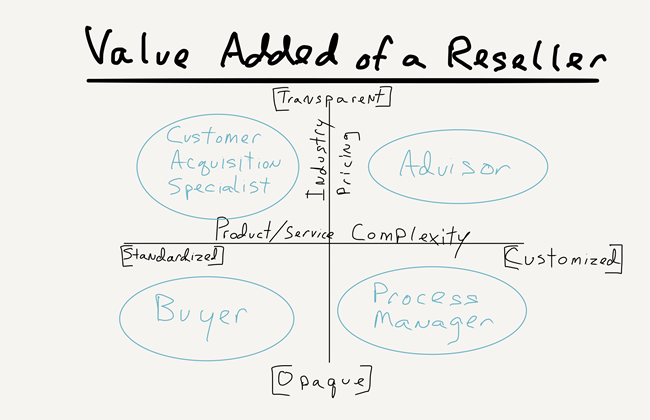 Based on dynamics of the industry, the value your new company can add to the process can be summarized as 1 of 4 possible roles: customer acquisition expert; advisor; buyer; or process manager. Each of these roles are valuable to both the end customer and the supplier.
The manner in which your new business is likely to get paid is slightly different based on the end pricing dynamics in the industry. In industries with transparent pricing, resellers typically purchase from the supplier at a discount and resell at full value or are paid by the suppliers directly. In industries with more opaque pricing, resellers typically "mark-up" the price charged by the supplier and charge the end customer the total fee with the mark-up being the resellers' profit.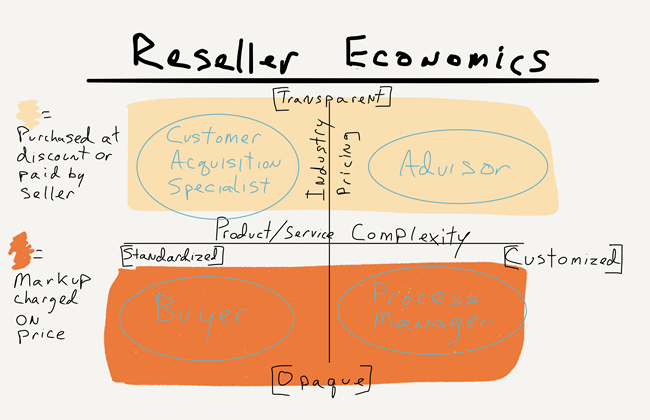 Once you are in business with happy customers, then you can consider adding the capabilities necessary to be a supplier yourself and eventually stop reselling. But who knows…you might find you like the flexibility that reselling offers.